Bergamot Tobacco Diffuser
Bergamot Tobacco Diffuser
The Bergamot Tobacco Reed Diffuser features a distinctive blend of Italian Bergamot, Tobacco Flowers, and Earthy Patchouli.
Terms and Conditions
Shipping: 2-3 Business Days
Our complex and powerful fragrance blend is continuously diffused into the air, instantly greeting anyone who enters the room.

Diffuser set includes fragrance oil, decorative wooden cap, and natural diffuser reeds.
Italian Bergamot, Tobacco Flowers, Cranberry, Orange Zest, Pimento Berry, Bay Leaf, Jasmine, Tuberose, Wild Peony, Peach Skin, Cardamom, White Pepper, Raspberry, Vetiver, Spun Sugar, Musk, and Smoked Patchouli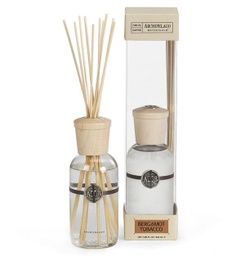 Bergamot Tobacco Diffuser
Bds$ 

179.95

Bds$ 

179.95
Bds$ 

179.95