Grosche Sangria Pitcher and Water Infuser Carafe 1L
Grosche Sangria Pitcher and Water Infuser Carafe 1L
Terms and Conditions
Shipping: 2-3 Business Days
A sangria pitcher & water carafe that captures functionality and style with its chic design, smart infusion gravity lid and 1 litre capacity.
Product details: 
The sangria pitcher & water carafe is the pinnacle of style and functionality. It holds 1 litre of water and features a gravity stainless steel lid and filter mechanism that seals when you are not pouring. Need a change? Switch up the silicone seals from orange to red. This pitcher and water infuser carafe lets you make your own fruit infused water, detox water or even Sangria.
This pitcher is dishwasher safe making it easy to clean, and is good for room temperature or cold beverages. It is not recommended for use with hot beverages.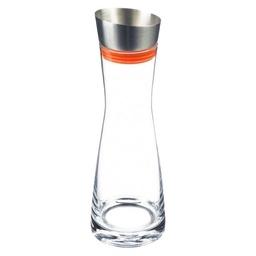 Grosche Sangria Pitcher and Water Infuser Carafe 1L
Bds$ 

99.95

Bds$ 

99.95
Bds$ 

99.95